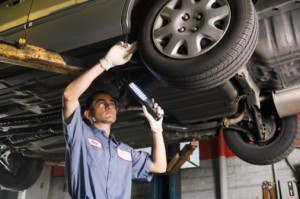 Proposals for compulsory MoT-style testing on the Isle of Man have met with a mixed reaction, with some comment on social media and online forums branding the plan as a 'money-making exercise', along with contrasting views that it will bring benefits to the Manx motor trade, largely from a general improvement in the quality of available vehicle stock on the island.
More than 600 responses have been received by the Department of Infrastructure since the survey's launch, early in December 2012.

Compulsory vehicle testing reduces accident rates
The Director of Highways for the island, Richard Pearson, pointed to international studies which show that compulsory vehicle testing and maintenance reduces accident rates, adding that the human cost of car accidents on the Isle of Man far outweighs the physical cost, estimated at an annual total of between 28 and 40 million pounds.
No recurring compulsory testing today
At present, the island has no system in place for compulsory testing, apart from initial tests carried out when cars are brought onto the island from the UK or elsewhere. The Department of Infrastructure examines vehicles which have been in fatal road traffic accidents, and has concluded that 10% of these appear to have contributory mechanical factors.
Roadside checks currently carried out
Roadside checks are also carried out in co-operation with the Isle of Man Constabulary, and whilst issues such as faulty lights and worn tyres are easily found, there are concerns about defects which might not be apparent at a roadside inspection.
MoT test in the UK
In the UK, new vehicles must be tested after three years on the road, and on an annual basis thereafter; in Europe, the initial period is four years, again with annual testing to follow. MoT testing was introduced to the UK in 1960, initially for vehicles that were 10 years old or more, but this was reduced progressively to the current three year initial period in April 1967.
MoT test stands for Ministry of Transport test, in the United Kingdom and relates to a defunct Government department which was one of several ancestors of the current Department for Transport.
The initial scope was confined to simple lights, brakes and steering tests, but the list of checkable items has steadily expanded over the years, with many revisions coming about as a result of European Union directives covering their member states.
The consultation runs until 1 February 2013.