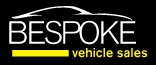 Bespoke Vehicle Sales Ltd is located in Peel, along the Quay.
Bespoke have around 40-50 cars on display on their premises in Peel. See their full Stock available online. If you are interested in a specific car, we recommend you to contact Bespoke to arrange time for a test drive, to make sure the car is available.
Contact details
Bespoke Group
Vehicle Sales
The Quay, Peel
Isle of Man

Phone number: +44 (0)1624 842039
Website: www.bespokegroup.im

Opening hours
Mon – Fri: 9.30am – 5.30pm
Sat: 10.00am – 5.00pm
Sun: 1.00pm – 4.30pm

How to find your way to Bespoke Vehicle Sales Ltd.
The Bespoke Vehicle Sales office is located where the arrow shows on the map below.

View Larger Map
Vehicles currently available from Bespoke
On the below photos you can see the whole showroom stock that is available with Bespoke currently.

We currently do not have an updated stock list of vehicles from Bespoke Vehicle Sales available. Please visit the car dealer's website for most recent stock.

>> See the full list of cars with details from Bespoke here.